FREQUENTLY ASKED QUESTIONS
How long does shipping take?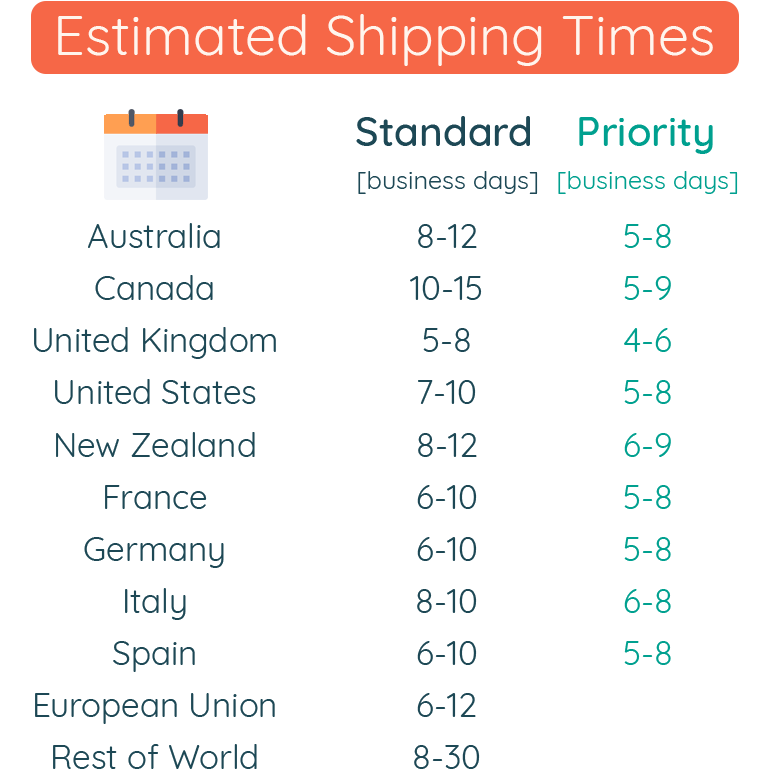 Will I receive a tracking number?
Yes, you will! All orders will receive a shipping confirmation email with tracking number included. If you click the tracking number you will be taken to the tracking information page for that order.
I'm unable to complete the checkout process, what can I do?
In some cases you may not be able to complete the checkout process due to browser issues. To solve this, please open your browser in incognito mode or open an incognito window then try completing the checkout process again.

Another reason for being unable to complete the checkout process may be that your card has insufficient funds.

In other cases you may need to contact your bank for a solution, as some issues arise from the bank not allowing a purchase to go through.
When can my baby start using the SuperTots Food Pacifier?
You can start giving your baby frozen milk from as soon as they're able to hold the pacifier. Please always monitor your baby when they're using it!

Some babies start teething at 3 months of age at which time frozen milk or ice is great for soothing their gums.

For most babies you can start introducing food in the pacifier at around 5-6 months of age, but please always consult your pediatrician before doing so!
What foods can I introduce with the SuperTots Food Pacifier?
Our favorite foods to start with are:
These healthy nutritious foods are great to start with because they're easy to digest and full of vitamins & minerals which include:

Yes, of course!

If you would like to cancel your order before we have sent it out, please email us at contact@super-tots.com to do so and you will receive a full refund.
If your order has already been sent out, then please wait until you receive the package. Once you've received your package, please email us at contact@super-tots.com and we will send you the best return address to send it back to. Once we receive the package we will refund you your money!
Can I change my shipping address?
We can change your shipping address as long as we haven't shipped your order out yet. Please email us at contact@super-tots.com with the following information:
- Order Number
- Full Name
- Original (incorrect) Address
- New (correct) Address
Please be aware that we cannot change your shipping address once the order has already been dispatched. Orders with the incorrect or an incomplete address cannot be resent or refunded.
How long will it take to process my order?
After having received your order we usually dispatch it within 0-3 business days.
What currency are prices displayed in?
Our store's currency is United States Dollars (USD).
All payments are made via Stripe® and our website is SSL encrypted so your information is completely safe and secure.